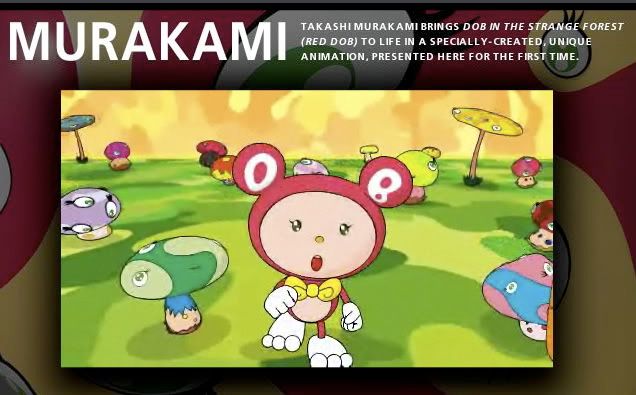 Click to watch


For the online catalog of November 12th's Post War and Contemporary Art auction, Christie's presents a true gift to online visitors, a Takashi Murakami cartoon.

"Executed in 1999, DOB in the Strange Forest (Red DOB) plunges the viewer into the hallucinatory, cute yet twisted world of Takashi Murakami. In both scale and appearance, the work has a toylike quality that heightens its sense of kawaii, the cuteness that has become so cultish in contemporary Japan. As well as being a self-portrait, Murakami has explained that he intended DOB as a self-portrait for the Japanese people. In doing this, he is trying to create an artform that relates to modern Japan, that addresses the problematic history and cultural development that followed in the cataclysmic wake of the Dutch traders, Admiral Perry and General MacArthur. The title refers to a range of concepts, not at least among them the traditional lack of illusionistic depth in Japanese art, the flatness of the digital screens of modern culture and design, and the flatness of Ground Zero following the atomic bombing of Hiroshima and Nakasaki. Certainly, the mutated mushrooms, which look immensely poisonous, conjure the clouds that rose over those cities as a result of their decimation."

So turn up the volume, click the photo, and enjoy the superflat world of Murakami.

UPDATE: The link to the movie has expired, sorry.