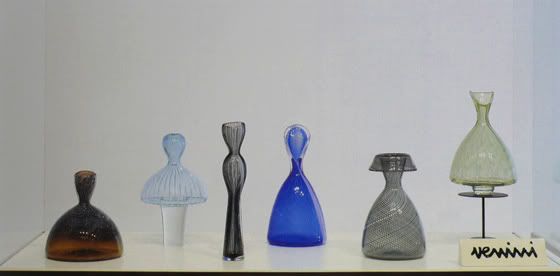 Another example of the interwoven worlds of fashion and design.

"In the 1952 Venice Biennial, Venini, the famous glass design company, entered a display of vases designed not by the factory's artists and architects, but by the glassblowers themselves. The unusual shapes and cloth-like pattering were based on the haute couture fashions which the owner's French wife wore when she visited the factory.

Ginette Gignous Venini was intimately involved in running the company with her husband Paolo Venini, and could often be seen by the male workers in the furnace room as she ascended and descended the stairs to the office.

In the late 1940s, as Europe and the firm returned to life after the war, Ginette began wearing designs by Christian Dior. When his first collection debuted in 1947, it was heralded as the New Look. (…) … the New Look soon became highly influential in art and design. The glass masters at Venini adopted its hourglass silhouettes and exaggerated forms. A few of these glass pieces were put into limited production and presented as designs of Paolo or Ginette Gignous Venini."

Text by Josiah McElheny

Via Moda Vivendi.